RSS
Podpora pre 4K Ultra HD
4K rozlíšenie obrazu je ďalší technologický míľnik v zobrazení obsahu s vysokým rozlíšením. Viac ako približne 4 000 pixelov na vodorovnej osi vypovedá o tom, že je toto rozlíšenie štyrikrát vyššie, než dnešné Full HD. Základné dosky GIGABYTE sa môžu pochváliť natívnou podporou 4K rozlíšenia cez port HDMI.
GIGABYTE Exclusive : Upgradable OP-AMP



Prispôsobiteľné


+ Používatelia si môžu zvoliť kvalitu zvuku podľa individuálnych posluchových preferencií.
+ Široká dostupnosť dodatočných zosilňovačov OP-AMP.



Spôsob, ako s nízkymi nákladmi výrazne zlepšiť kvalitu zvuku


+ Zlepšenie dynamiky zvuku a celkovej zvukovej kvality za nízku cenu.
+ Nie sú potrebné drahé reproduktory alebo špičková audio výbava.




Exclusive onboard 'Gain Boost' selector switches


+ Select either standard 2.5x or high-amplification 6x mode.
+ 6x mode is ideal for high impedance speakers and headphones
* IC Extractor not included.
* The above photos are for reference only.
USB DAC-UP
The above photos are for reference only.
Clean, low-noise power for your Digital-to-Analog Audio converter

GIGABYTE USB DAC-UP provides clean, noise-free power delivery to your Digital-to-Analog Converter. DACs can be sensitive to fluctuations in power from the other USB ports, which is why GIGABYTE USB DAC-UP takes advantage of an isolated power source that minimizes potential fluctuations and ensures the best audio experience possible.



The Intel
®
USB 3.1 controller utilizes 2 PCIe Gen3 lanes, offering a total of up to 16Gb/s, which means you have extra bandwidth to take full control of the 10Gb/s USB 3.1 ports. With twice the bandwidth compared to its previous generation, and backwards compatibility with USB 2.0 and 3.0, the much improved USB 3.1 protocol is available over the new reversible USB Type-C™ and the traditional USB Standard-A connector for better compatibility over a wider range of devices.
EKWB Water Cooling Ready
Designed and engineered in co-operation with GIGABYTE®, this monoblock uses award winning EK-Supremacy EVO cooling engine to ensure best possible CPU cooling. This water block directly cools Intel LGA-1151 socket type CPU and power regulation (MOSFET) module as water flows directly over all critical areas. It is a very high flow water block that can be easily used with the system using weaker water pumps. Unlike other solution on the market, this is a true one-piece, sturdy and reliable liquid cooling product which requires only two connector fittings for proper operation.
Note: EKWB water block and it's accessories are not included with the motherboard and are not covered by the motherboard warranty. For more information about EK's water block, please visit
https://shop.ekwb.com/ek-fb-ga-z170x-monoblock-nickel
Pripojenie budúcnosti - USB Type-C™:
Nový univerzálny konektor Reversible USB Type-C™ with USB 3.1
The USB Type-C™ is a new reversible connector that is loaded with useful features such as USB 3.1 support for 10Gb/s transfer speed. Powered by the Intel® USB 3.1 controller, this little port provides the best USB Type-C™ experience possible.
* Funkcie závisia od modelov..
Industry Leading Ultra Durable™ PCIe Metal Shielding
| | |
| --- | --- |
| | The innovative one piece stainless steel shielding design from GIGABYTE reinforces the PCIe connectors to provide the extra strength required to support heavy graphics cards. |
HDMI™ - Multimediálne rozhranie novej generácie
HDMI™ (High-Definition Multimedia Interface) je rozhranie so šírkou pásma až 5 GB pre video a prenesie aj 8-kanálový vysokokvalitný zvuk - to všetko pomocou jediného kábla. HDMI™ je schopné prenášať nekomprimované digitálne video aj zvuk, prináša tak najostrejšie vykresľovanie digitálneho obsahu až do rozlíšenia 1080p. A to bez kvalitatívnych strát spojených s analógovými rozhraniami a ich D/A prevodom. Okrem toho je HDMI™ kompatibilné s ochranou HDCP (High-bandwidth Digital Content Protection), čo umožňuje prehrávanie Blu-Ray / HD DVD a iných chránených médií.
15μ Gold Plated CPU Socket Design

GIGABYTE motherboards come equipped with a 15 micron thick gold plated CPU socket, which means that enthusiasts can enjoy absolute reliability and longevity for the CPU socket overtime, without having any concerns about corroded pins or bad contacts.

SATA Express novej generácie
SATA Express kombinuje výhody rozhrania PCI Express a SATA a poskytuje tak oveľa väčšiu šírku pásma s rýchlosťou prenosu dát až 16 Gb/s.
The above photos are for reference only.
High End Audio Capacitors
GIGABYTE G1™ Gaming motherboards use high end, Japanese branded Nichicon audio capacitors. These professional audio capacitors deliver the highest quality sound resolution and sound expansion to create the most realistic sound effects for professional gamers.



Realtek ALC1150 115dB SNR HD Audio
The ALC1150 is a high-performance multi-channel High Definition Audio Codec that delivers an exceptional audio listening experience with up to 115dB SNR, ensuring users get the best possible audio quality from their PC.

The ALC1150 provides ten DAC channels that simultaneously support 7.1-channel sound playback, plus 2 channels of independent stereo sound output (multiple streaming) through the front panel stereo outputs. Two stereo ADCs are integrated and can support a microphone array with Acoustic Echo Cancellation (AEC), Beam Forming (BF), and Noise Suppression (NS) technologies. The ALC1150 incorporates Realtek proprietary converter technology to achieve Front differential output 115dB Signal-to-Noise ratio (SNR) playback (DAC) quality and 104dB SNR recording (ADC) quality.


Additional Sound Blaster X-Fi MB3
GIGABYTE G1™ Gaming motherboards also include Sound Blaster X-Fi MB3 software suite. Sound Blaster X-Fi MB3 software suite is a powerful audio platform offering premium audio quality, effects and features for gamers. It features SBX Pro Studio™ suite of technologies, which is designed to give you the fullest audio experience.
Killer™ E2200 Gaming Network / Intel® Gigabit LAN
Killer™ E2200 is a high-performance, adaptive gigabit Ethernet controller that offers better online gaming and media performance compared to standard solutions.
Intel® Gigabit LAN networking, a popular choice with gamers, delivers several performance-enhancing features such as advanced interrupt handling to help reduce CPU overhead and Jumbo Frame support for extra large data packets.
Long Lifespan Durable Black™ Solid Caps
Základné dosky GIGABYTE sú osadené absolútne najkvalitnejšími kondenzátormi, ktoré sú schopné pracovať pri maximálnej účinnosti po dlhú dobu a to aj pri extrémnych výkonnostných konfiguráciách. Vďaka tomu môžu byť používatelia, ktorí chcú zo svojho systému získať maximum, a napriek tomu si vyžadujú kompletné stabilitu a spoľahlivosť, s týmito doskami úplne pokojní. S týmito kondenzátormi s extrémne nízkou hodnotou ESR nezáleží na tom, ako veľmi je procesor zaťažený, absolútna spoľahlivosť a stabilita zostáva stále zachovaná. Tieto exkluzívne kondenzátory prichádzajú tiež v čiernej farbe, len na základných doskách GIGABYTE.

Turbo B-Clock:
Zabudovaný čip pre pokročilý tuning výkonu počítača
Thanks to the onboard TURBO B-Clock Tuning IC, GIGABYTE Motherboards enable overclockers to have the ability to change their BCLK frequency to a desired value of their choice. With the new linear range adjustment option of the Tuning IC, ranges from 90MHz to 500MHz are now possible, so that overclockers are not limited to the 5% ranges of traditional straps.
*Rozsah pretaktovania Turbo B-Clock môže závisieť od schopností procesora.
All New GIGABYTE App Center Including EasyTune™, Cloud Station™ Utilities and More
GIGABYTE EasyTune ™ je jednoduché a ľahko použiteľné rozhranie, ktoré umožňuje začiatočníkom i expertom doladiť ich nastavenia systému alebo upraviť takty a napätia systému a pamäťe v prostredí Windows. Pri Smart Quick Boost vám stačí jedno kliknutie pre automatické pretaktovanie vášho systému, čím získate nárast výkonu, keď ho budete najviac potrebovať.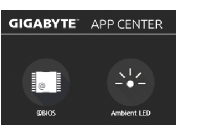 GIGABYTE App Center gives you easy access to a wealth of GIGABYTE apps that help you get the most from your GIGABYTE motherboard. Using a simple, unified user interface, GIGABYTE App Center allows you to launch all GIGABYTE apps installed on your system.
Get the highest levels of performance from your PC with easy to use GIGABYTE overclocking features.
GIGABYTE Cloud Station™ is composed of several GIGABYTE unique apps that allow your smart phones/tablet devices to communicate, share resources, and control your desktop PC via a wireless connection.
2-Way SLI™/3-Way CrossFire™ Multi-Graphics
Multi-graphics configuration offers better graphics performance for gaming enthusiasts who demand the highest frame rates without compromising on resolution.
Dual PCIe Gen3 x4 M.2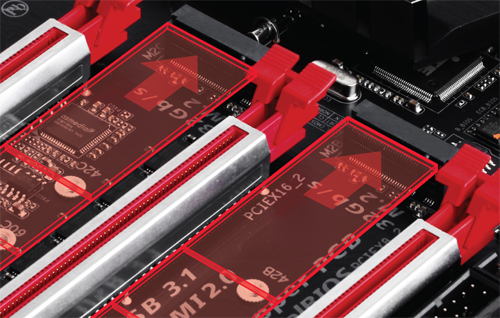 With two PCIe Gen3 x4 M.2 connectors onboard, GIGABYTE brings to the user PCI-Express connectivity for SSD devices. Delivering up to 32 Gb/s data transfer speed per connector, the dual M.2 provides an ideal storage solution as it also supports RAID modes.
The above photos are for reference only.
* Všetky tu uvedené materiály sú orientačné. GIGABYTE si vyhradzuje právo kedykoľvek meniť alebo revidovať obsah a to bez predchádzajúceho upozornenia.
* Spomínaný výkon je založený na maximálnych teoretických hodnotách z rozhrania jednotlivých čipsetov dodávateľov alebo organizácií, ktoré definovali špecifikáciu jednotlivých rozhraní. Skutočný výkon sa môže líšiť v závislosti od konfigurácie systému.
* Všetky ochranné známky a logá sú vlastníctvom ich príslušných vlastníkov.
* Vďaka štandardnej architektúre PC je určité množstvo pamäte vyhradené pre systém, preto môže byť skutočná veľkosť dostupnej pamäte nižšia, ako uvedené množstvo.