RSS
Fast USB 3.1 Solution
The latest USB 3.1 offers a staggering 10Gb/s transfer speed, 2x faster than USB 3.0 and backward compatibility with existing USB devices.
Fast Onboard Storage with 32Gb/s M.2, Z170
GIGABYTE 22110/2280/2260/2242 M.2 solution offers considerably faster storage performance and support for both PCIe and SATA interface for M.2 SSD devices.


All New GIGABYTE App Center Including EasyTune™, Cloud Station™ Utilities and More
GIGABYTE EasyTune ™ je jednoduché a ľahko použiteľné rozhranie, ktoré umožňuje začiatočníkom i expertom doladiť ich nastavenia systému alebo upraviť takty a napätia systému a pamäťe v prostredí Windows. Pri Smart Quick Boost vám stačí jedno kliknutie pre automatické pretaktovanie vášho systému, čím získate nárast výkonu, keď ho budete najviac potrebovať.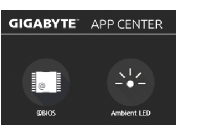 GIGABYTE App Center gives you easy access to a wealth of GIGABYTE apps that help you get the most from your GIGABYTE motherboard. Using a simple, unified user interface, GIGABYTE App Center allows you to launch all GIGABYTE apps installed on your system.
Get the highest levels of performance from your PC with easy to use GIGABYTE overclocking features.
GIGABYTE Cloud Station™ is composed of several GIGABYTE unique apps that allow your smart phones/tablet devices to communicate, share resources, and control your desktop PC via a wireless connection.
SATA Express novej generácie
SATA Express kombinuje výhody rozhrania PCI Express a SATA a poskytuje tak oveľa väčšiu šírku pásma s rýchlosťou prenosu dát až 16 Gb/s.
The above photos are for reference only.
Multigrafické riešenie 2-Way CrossFire™
Konfigurácia viacerých grafických kariet ponúka vyšší grafický výkon pre hranie nadšencov, ktorí vyžadujú najvyššie počty snímok za sekundu, bez toho, aby museli robiť kompromisy v rozlíšení obrazu.
Killer™ E2400 Gaming Network
GIGABYTE G1™ Gaming motherboards feature the Killer™ E2400, a high-performance, adaptive gigabit Ethernet controller that offers better online gaming and online media performance compared to standard solutions
Industry Leading Ultra Durable™ PCIe Metal Shielding
| | |
| --- | --- |
| | The innovative one piece stainless steel shielding design from GIGABYTE reinforces the PCIe connectors to provide the extra strength required to support heavy graphics cards. |
Realtek ALC1150 115dB SNR HD Audio
The ALC1150 is a high-performance multi-channel High Definition Audio Codec that delivers an exceptional audio listening experience with up to 115dB SNR, ensuring users get the best possible audio quality from their PC.

The ALC1150 provides ten DAC channels that simultaneously support 7.1-channel sound playback, plus 2 channels of independent stereo sound output (multiple streaming) through the front panel stereo outputs. Two stereo ADCs are integrated and can support a microphone array with Acoustic Echo Cancellation (AEC), Beam Forming (BF), and Noise Suppression (NS) technologies. The ALC1150 incorporates Realtek proprietary converter technology to achieve Front differential output 115dB Signal-to-Noise ratio (SNR) playback (DAC) quality and 104dB SNR recording (ADC) quality.


High End Audio Capacitors
GIGABYTE G1™ Gaming motherboards use high end, Japanese branded Chemicon audio capacitors. These professional audio capacitors deliver the highest quality sound resolution and sound expansion to create the most realistic sound effects for professional gamers.
Ambient LED
GIGABYTE motherboards feature LED lighting for the audio guard path, providing a cool, custom look to your rig. Not only does the Audio Noise Guard protect the board's sensitive analog audio components, but its LEDs can also be programed to beat at the rhythm of the music you are listening to, or pulse at a soothing pace to create a great atmosphere to enhance the environment of your game, movie or music.
15μ Gold Plated CPU Socket Design

GIGABYTE motherboards come equipped with a 15 micron thick gold plated CPU socket, which means that enthusiasts can enjoy absolute reliability and longevity for the CPU socket overtime, without having any concerns about corroded pins or bad contacts.

GIGABYTE Patented DualBIOS™ (UEFI) Design
GIGABYTE Ultra Durable™ motherboards feature GIGABYTE DualBIOS™, an exclusive technology from GIGABYTE that protects arguably one of your PC's most crucial components, the BIOS. GIGABYTE DualBIOS™ means that your motherboard has both a 'Main BIOS' and a 'Backup BIOS', making users protected from BIOS failure due to virus attack, hardware malfunction, improper OC settings or power failure during the update process.
HDMI™ - Multimediálne rozhranie novej generácie
HDMI™ (High-Definition Multimedia Interface) je rozhranie so šírkou pásma až 5 GB pre video a prenesie aj 8-kanálový vysokokvalitný zvuk - to všetko pomocou jediného kábla. HDMI™ je schopné prenášať nekomprimované digitálne video aj zvuk, prináša tak najostrejšie vykresľovanie digitálneho obsahu až do rozlíšenia 1080p. A to bez kvalitatívnych strát spojených s analógovými rozhraniami a ich D/A prevodom. Okrem toho je HDMI™ kompatibilné s ochranou HDCP (High-bandwidth Digital Content Protection), čo umožňuje prehrávanie Blu-Ray / HD DVD a iných chránených médií.
Podpora pre 4K Ultra HD
4K rozlíšenie obrazu je ďalší technologický míľnik v zobrazení obsahu s vysokým rozlíšením. Viac ako približne 4 000 pixelov na vodorovnej osi vypovedá o tom, že je toto rozlíšenie štyrikrát vyššie, než dnešné Full HD. Základné dosky GIGABYTE sa môžu pochváliť natívnou podporou 4K rozlíšenia cez port HDMI.
* Všetky tu uvedené materiály sú orientačné. GIGABYTE si vyhradzuje právo kedykoľvek meniť alebo revidovať obsah a to bez predchádzajúceho upozornenia.
* Spomínaný výkon je založený na maximálnych teoretických hodnotách z rozhrania jednotlivých čipsetov dodávateľov alebo organizácií, ktoré definovali špecifikáciu jednotlivých rozhraní. Skutočný výkon sa môže líšiť v závislosti od konfigurácie systému.
* Všetky ochranné známky a logá sú vlastníctvom ich príslušných vlastníkov.
* Vďaka štandardnej architektúre PC je určité množstvo pamäte vyhradené pre systém, preto môže byť skutočná veľkosť dostupnej pamäte nižšia, ako uvedené množstvo.