RSS
Ambient Surround LED
Nastav si farbu podľa tvojho štýlu
Now offering more LED customizations than ever, users can truly adapt their PC to represent their lifestyle. With full RGB support and a redesigned Ambient LED application, the user has complete control over the LEDs which surround the motherboard.

Light Up Your Case to Match your Motherboard
With an onboard Pin Header for aftermarket LED Strips, users now have the ability to sync the lighting in their computer case with the lighting on their motherboard. By using the Ambient LED Application, included in GIGABYTE APP Center, users are also able to specify the lighting modes available and ensure that everything is illuminating their system in harmony.
Customization Features and Water Cooling Support
Fotografia je ilustračná. Water pumps and accessories not included.
Dual Hybrid Fan Headers
Precise PWM and Voltage Control for Water pumps or Fans
Many of today's modern computers feature water cooling to ensure that the CPU or graphics cards stay cool and quiet while they are put under heavy load. In order to provide the best support for water cooling solutions, GIGABYTE has equipped its X99 / Z170 motherboards with an additional water pump power header. This allows the user to have full control over two water pumps or fans. An additional benefit of these headers with GIGABYTE's motherboards is the option to choose between voltage calibration or PWM modes.
Fotografia je ilustračná. Water pumps and accessories not included.
Pohlcujúci zážitok z hrania vo virtuálnej realite

›

VR requires more performance than Full HD graphics for a steady 60FPS or greater.

›

Jedine herné počítače dokážu priniesť najlepší zážitok z hrania vo VR.

Ak chcete mať zaistený skvelý zážitok z virtuálnej reality, základné dosky GIGABYTE vám ponúknu tie najlepšie funkcie na to, aby ste mali z vašej virtuálnej reality pocit, že ide o skutočnosť.

With technologies such as NVMe support via M.2 or U.2 and a one piece metal shielding to brace for heavier discrete graphics cards its obvious that GIGABYTE has the tools you need to start your journey in VR. To set the mood GIGABYTE Motherboards include Ambient Surround LED to put you in the center of action.

Recommended configuration for VR Gaming PC

- Graphics Card: NVIDIA GTX 970 / AMD R9 290 or greater, Compatible HDMI 1.3 video output
- CPU: Intel i5-6600K equivalent or greater
- Motherboard: GIGABYTE X99/Z170/H170/B150 motherboards
- Memory: 8GB RAM or greater
- USB Ports:3x USB 3.0 ports plus 1x USB 2.0 port or greater
- OS: Windows 7 SPI 64-bit or newer


Všetky obrázky chránené autorským právom alebo ochranné známky patria ich vlastníkom a sú zobrazené len pre ilustráciu. Ilustrácia a zobrazenie tu nepredstavuje ani nenaznačuje spojenie alebo schválenie produktov Gigabyte príslušnými vlastníkmi ochranných známok.
2-Way SLI™ / CrossFire™ Multi-Graphics

Multigrafická konfigurácia ponúka lepší grafický výkon pre milovníkov hier, ktorí vyžadujú tie najvyššie počty snímok za sekundu, bez toho, aby sa museli obmedzovať v rozlíšení obrazu.

GIGABYTE Design
By spacing the graphics cards in multi-graphics configurations, users are now able to obtain maximum airflow between cards.
ČISTÁ RÝCHLOSŤ, VIAC VÝKONU

Exkluzívne na základných doskách GIGABYTE
Intel® USB 3.1
The Intel® USB 3.1 controller (Alpine Ridge) utilizes 4 PCIe Gen2 lanes, offering up to 20 Gb/s total bandwidth, for uncompromised transfer speeds of up to 10 Gb/s per USB 3.1. With twice the bandwidth compared to its previous generation, and backwards compatibility with USB 2.0 and 3.0, the much improved USB 3.1 protocol is available over the new reversible USB Type-C™ and the traditional USB Standard-A connector for better compatibility over a wider range of devices.
Bandwidth design for the controller
*Max. bandwidth allocated for the controller may vary by model.
Pripojenie budúcnosti - USB Type-C™:
Nový univerzálny konektor


Reversible USB Type-C™ with USB 3.1

The USB Type-C™ is a new reversible connector that is loaded with useful features such as USB 3.1 support for 10 Gb/s transfer speed and DisplayPort 1.2 support to connect 4K monitors. Powered by the Intel® controller, this little port is the better USB Type-C™.




* Funkcie závisia od modelov..
U.2 Onboard
(NVMe PCIe Gen3 x4)
NVMe výkon pre PCIe SSDs
Nová SSD séria Intel 750 ponúka oproti SATA SSD neuveriteľný nárast výkonu. Vďaka protokolu NVMe, ktorý využíva vysoké prenosové rýchlosti štyroch PCIe Gen3 liniek (32 Gb/s) sú tieto disky jasnou voľbou pre všetkých používateľov, ktorí chcú, aby ich operačný systém štartoval rýchlejšie, ich hry sa sťahovali rýchlosťou blesku a ktorí chcú pristupovať k súborom bez čakania. Vďaka implementácii portu U.2 priamo na základnú dosku pre podporu 2,5" SSD Intel 750 zaisťuje GIGABYTE, že budú mať používatelia výhody z najlepšieho výkonu.
Fotografia je ilustračná. SSDs and cables are not included.
Genuine All Digital Power Design
GIGABYTE X99 series motherboards use an all digital CPU power design from International Rectifier® which includes both 4th Generation digital PWM Controllers and industry-leading 3rd Generation PowIRstage® controllers. These 100% digital controllers offer incredible precision in delivering power to the motherboard's most power-hungry and energy-sensitive components, allowing enthusiasts to get the absolute maximum performance from their new Intel® Core™ i7 Extreme Edition CPUs.


IR Digital PWM & IR PowIRstage® ICs


This new generation of IR® digital power controllers and PowIRstage® ICs feature Isense technology, which provide more precise current sensing accuracy. This helps evenly distribute the thermal loading between the PowerIRstage® ICs, preventing the overheating of each individual PowerIRstage®, resulting in longer lifespan and better reliability.
Server Level Chokes

Server Level Chokes
• Server level reliability
• High current capacity
• New design reduces heat created by power loss and provides efficient power delivery to CPU VRM area.

Long Lifespan Durable Black™ Solid Caps

GIGABYTE X99 series motherboards integrate the absolute best quality solid state capacitors that are rated to perform at maximum efficiency for extended periods, even in extreme performance configurations. This provides peace of mind for end users who want to push their system hard, yet demand absolute reliability and stability, with ultra-low ESR no matter how high the CPU loading.
Support for DDR4 XMP Up to 3400MHz and Beyond*
GIGABYTE is offering a tested and proven platform that ensures proper compatibility with profiles up to 3400MHz and beyond. All users need to do to attain this performance boost is to ensure that their memory module is XMP capable and that the XMP function is activated and enabled on their GIGABYTE motherboard.
Čo je XMP?
Pamäťové moduly DDR4 SDRAM sú k dispozícii so základnou frekvenciou 2 133 MHz, ale kvôli tomu, že ladenie frekvencií vyžaduje značné znalosti a úsilie, dodávajú výrobcovia svoje pamäti sa pripravenými XMP profilmi, ktoré môžu automaticky upravovať časovanie podporovaných modulov pre prácu s procesorom pre dosiahnutie tak vyššieho výkonu.
*
Podpora XMP profilov závisí na konkrétnom pamäťovom module.
Prosím navštívte stránku www.gigabyte.com pre kompletný zoznam overených a podporovaných pamätí.
Inovovaný BIOS
Jednoducho, chytro a priateľsky
BIOS je pre používateľa nevyhnutný pri úvodnom nastavení, aby si základnú dosku upravil čo najoptimálnejšie. Vďaka novému grafickému rozhraniu a ľahšie použiteľným funkciám sa podarilo GIGABYTE inovovať BIOS tak, aby používateľom priniesol pri nastavovaní ich nového počítača väčšiu spokojnosť.
Fotografie sú ilustračné. Dostupnosť funkcií se môže líšiť v závislosti na konkrétnom modeli
GIGABYTE patentovaný
Dvojitý zámok
Ultra Durable™ PCIe ochrana
Zvýšená odolnosť PCIe slotov, podpora ťažkých grafických kariet pre extrémne / VR herné stanice
Sloty DIMM s dvojitým krytím a kovové krytie PCIe slotov
Už sa nikdy nebudete musieť báť o to, že by vaša ťažká grafická karta poškodila základnú dosku. Proprietárne kovové krytie PCIe slotov Ultra Durable spevňuje PCIe slot tak, aby nedošlo kvôli ťažkej grafike k jeho poškodeniu. Kovové krytie DIMM a PCIe slotov tiež poskytuje odolnosť navyše pre prípad, že zabudnete pri výmene komponentu uvoľniť zámok. Táto poistka vám potom môže zachrániť základnú dosku.
Ochrana pamätí Ultra Durable™ Memory Armor
Exkluzívne krytie z jedného kusa nehrdzavejúcej ocele od GIGABYTE chráni základnú dosku pred deformáciami a skrútením (ohýbaním) a navyše predchádza prípadnému ESD rušeniu.
Dostupnosť funkcií se môže líšiť v závislosti na konkrétnom modeli Fotografia je ilustračná.
Ochranný dizajn rezistora
Zlúčeniny síry môžu preniknúť k malým rezistorom na základnej doske, spôsobiť chemické zmeny a tým aj väčšiu či menšiu rezistivitu odporov. V dôsledku toho môže prestať základná doska fungovať. Vybavenie základných dosiek GIGABYTE Ultra Durable rezistormi s Anti-Sulfur konštrukciou tak získava úplne nový význam.
Dostupnosť funkcií se môže líšiť v závislosti na konkrétnom modeli
Anti-Sulfur produkt: pre ochranu striebornej vrstvy a zabránenie reakcie bola pridaná vrstva zliatiny.
Bez zabraňujúcej vrstvy: elektródové koncovky nemajú ochrannú vrstvu, čo znamená, že kyslík alebo iné prvky z okolitého prostredia prenikajú Ni (niklovou) vrstvou a spôsobia reakciu, čím zhoršia schopnosť elektródy správne viesť elektrinu.
Dual Intel® GbE LAN with cFosSpeed & Intel WIFI Card Onboard
The Dual Intel®Gigabit LAN with cFosSpeed features advanced technology to help deliver better network responsiveness in crowded LAN environments and allows optimization and improved network performance for specific applications, making it a popular choice amongst gamers.
Turbo B-Clock

Zabudovaný čip pre pokročilý tuning výkonu počítača
Thanks to the onboard TURBO B-Clock Tuning IC, GIGABYTE Motherboards enable overclockers to have the ability to change their BCLK frequency to a desired value of their choice. With the new linear range adjustment option of the Tuning IC, ranges from 90MHz to 500MHz are now possible, so that overclockers are not limited to the 5% ranges of traditional straps.
*Rozsah pretaktovania Turbo B-Clock môže závisieť od schopností procesora.
High Definition Audio Design
The Realtek ALC1150 is a high-performance multi-channel High Definition Audio Codec that delivers an exceptional audio listening experience with up to 115dB SNR, ensuring users get the best possible audio quality from their PC.

High Quality audio capacitors deliver the highest quality sound resolution and sound expansion to create the most realistic sound effects for professional gamers.


GIGABYTE Patented DualBIOS™ (UEFI) Design
Základné dosky GIGABYTE 9 Ultra Durable ™ sú vybavené exkluzívnou technológiou GIGABYTE DualBIOS ™, ktorá chráni jeden z najdôležitejších počítačových komponentov, systém BIOS. S technológiou GIGABYTE DualBIOS ™ má základná doska nielen "hlavný BIOS", ale aj "záložný BIOS", preto sú používatelia chránení pred zlyhaním systému BIOS spôsobeným napríklad vírusom, zlyhaním hardvéru, nesprávnym nastavením pretaktovanie, alebo výpadkom napájania v priebehu procesu aktualizácie.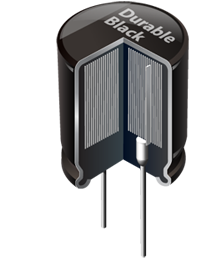 Long Lifespan Durable Black™ Solid Caps
Základné dosky GIGABYTE sú osadené absolútne najkvalitnejšími kondenzátormi, ktoré sú schopné pracovať pri maximálnej účinnosti po dlhú dobu a to aj pri extrémnych výkonnostných konfiguráciách. Vďaka tomu môžu byť používatelia, ktorí chcú zo svojho systému získať maximum, a napriek tomu si vyžadujú kompletné stabilitu a spoľahlivosť, s týmito doskami úplne pokojní. S týmito kondenzátormi s extrémne nízkou hodnotou ESR nezáleží na tom, ako veľmi je procesor zaťažený, absolútna spoľahlivosť a stabilita zostáva stále zachovaná. Tieto exkluzívne kondenzátory prichádzajú tiež v čiernej farbe, len na základných doskách GIGABYTE.
PCB s 2 × hrubšou vrstvou medi (2 unce medi na jednu PCB)
Exkluzívny návrh GIGABYTE dvojnásobného množstva medi v PCB poskytuje dostatok energie na napájacích trasách medzi komponentmi pre väčšie než normálne elektrické zaťaženie a tiež lepšie odvádza teplo z kritickej oblasti napájania procesora. Oboje je nevyhnutné na to, aby bola doska schopná zvládnuť zvýšené výkonové zaťaženie pri pretaktovaní.
15μ pozlátená CPU pätica
GIGABYTE motherboards come equipped with a 15 micron thick gold plated CPU socket, which means that enthusiasts can enjoy absolute reliability and longevity for the CPU socket overtime, without having any concerns about corroded pins or bad contacts.
Q-Flash Plus
GIGABYTE Q-Flash Plus allows users to update to the latest BIOS using a thumb drive without the CPU or Memory needing to be installed.


Updating your BIOS on your GIGABYTE motherboard can be done in a flash – even without memory or CPU onboard. Utilizing the EC Controller, the BIOS on your GIGABYTE Motherboard can now be updated through Q-Flash Plus even if your system is unable to boot. An LED next to the EC controller will notify you once the procedure is complete and you are ready to boot your system normally.

* USB thumb drive not included.
Pomôcka "G-Connector", uľahčujúca inštaláciu
Manipulácia s drobnými káblami a konektormi indikátorov na prednom paneli môže byť v obmedzenom priestore obtiažna. Vďaka pomôcke "G-Connector" môžete pripojiť všetky káble predného panela naraz, čo vám zjednoduší stavbu vášho nového počítača a ušetrí prípadnú frustráciu.
ESD Protection for USB and LAN
GIGABYTE motherboards raise the bar in terms of protecting your system, providing advanced electrostatic discharge (ESD) protection for both your Ethernet LAN and USB ports, both common sources of ESD-related failures. Each LAN and USB port is paired with a dedicated protection filter that can withstand high electrostatic discharges, protecting your system from common electrical surges and even direct lighting strikes.
Fast Onboard Storage with NVMe PCIe Gen3 x4 110mm M.2
(Up to 32 Gb/s)
GIGABYTE's M.2 solution offers considerably faster storage performance and support for PCIe NVMe SSD devices.
Fotografia je ilustračná. M.2 SSDs and cables not included.
* Všetky tu uvedené materiály sú orientačné. GIGABYTE si vyhradzuje právo kedykoľvek meniť alebo revidovať obsah a to bez predchádzajúceho upozornenia.
* Spomínaný výkon je založený na maximálnych teoretických hodnotách z rozhrania jednotlivých čipsetov dodávateľov alebo organizácií, ktoré definovali špecifikáciu jednotlivých rozhraní. Skutočný výkon sa môže líšiť v závislosti od konfigurácie systému.
* Všetky ochranné známky a logá sú vlastníctvom ich príslušných vlastníkov.
* Vďaka štandardnej architektúre PC je určité množstvo pamäte vyhradené pre systém, preto môže byť skutočná veľkosť dostupnej pamäte nižšia, ako uvedené množstvo.