RSS
GIGABYTE G1-Killer motherboards feature the Killer™ E2200 from Qualcomm Atheros, a high-performance, adaptive gigabit Ethernet controller that offers better online gaming and online media performance compared to standard solutions. The Killer™ E2200 features Advanced Stream Detect technology, which identifies and prioritizes all network traffic to ensure important applications that require high-speed connectivity are prioritized over less important traffic.
| | |
| --- | --- |
| Our Killer™ E2200 Intelligent Networking Platform is built for maximum networking performance for online games and high-quality streaming media. Featuring Advanced Stream Detect™, Killer E2200 automatically detects and accelerates game traffic ahead of other network traffic for smoother, stutter-free in-game performance and the competitive edge. With this exclusive, automatic traffic prioritization, games and real-time chat get priority over low-level system chatter, giving you the lowest latency for game data on the most controllable network hardware available. | |
Up to

50%

Faster Gaming Traffic

Up to

300%

Faster Video Traffic
GIGABYTE 8 Series Motherboards
GIGABYTE 8 Series motherboards support the latest 4th Generation Intel® Core™ processors, bringing together a unique blend of features and technologies that offer the absolute ultimate platform for your next PC build. From high current capable digital power delivery, performance-enhancing caching technologies, exclusive high-end audio features, advanced networking and device charging, gold plated hardware connectors and of course, killer good looks, GIGABYTE 8 series motherboards are in a class of their own.

Next Gen Intel® 8 Series Platform
The latest Intel 8 Series platform offers significant improvements in performance and power consumption with the latest 4th generation Intel® Core™ processors and Intel® chipsets. As well as a boost in overall productivity, the latest HD4600 Intel® processor graphics provide native 4K resolution playback over standard HDMI connectivity, with significantly higher frame rates in the latest DX11 3D game titles.
GIGABYTE G1-Killer 8 Series Motherboards
GIGABYTE 8 Series G1-Killer motherboards are packed with absolutely everything you'll need to build an uncompromising, high-performance gaming PC. Loaded with advanced audio technologies, networking, maxed out multi-card gaming support, advanced cooling and looks that could kill, GIGABYTE G1-Killer motherboards are the ultimate choice for serious PC gamers.
GIGABYTE Ultra Durable™ 4 Plus
GIGABYTE Ultra Durable™ 4 Plus debuts on GIGABYTE 8 Series motherboards, with a range of features and component choices that provide record-breaking performance, cool and efficient operation and extended motherboard lifespan.
Gain Boost
To further optimize the audio experience provided by the onboard OP-Amp, GIGABYTE motherboards also debut Gain Boost. Gain Boost provides onboard switches to select between 2.5x and 6x amplification modes depending on output device. Most OP-Amps are capable of providing a high-gain audio output that is ideal for high-end headphones and speakers that have higher impedance headroom. Gain Boost allows users to switch between 6x and x2 amplification depending on the speakers or headphones being used.
Exclusive Upgradable OP-AMP Gaming Motherboard
GIGABYTE AMP-UP Audio combines a range of unique features and technologies that are designed to give audio enthusiasts and PC gamers more control over their motherboard audio than ever before.
HDMI™ - Multimediálne rozhranie novej generácie
HDMI™ (High-Definition Multimedia Interface) je rozhranie so šírkou pásma až 5 GB pre video a prenesie aj 8-kanálový vysokokvalitný zvuk - to všetko pomocou jediného kábla. HDMI™ je schopné prenášať nekomprimované digitálne video aj zvuk, prináša tak najostrejšie vykresľovanie digitálneho obsahu až do rozlíšenia 1080p. A to bez kvalitatívnych strát spojených s analógovými rozhraniami a ich D/A prevodom. Okrem toho je HDMI™ kompatibilné s ochranou HDCP (High-bandwidth Digital Content Protection), čo umožňuje prehrávanie Blu-Ray / HD DVD a iných chránených médií.
Podpora pre 4K Ultra HD
4K rozlíšenie obrazu je ďalší technologický míľnik v zobrazení obsahu s vysokým rozlíšením. Viac ako približne 4 000 pixelov na vodorovnej osi vypovedá o tom, že je toto rozlíšenie štyrikrát vyššie, než dnešné Full HD. Základné dosky GIGABYTE sa môžu pochváliť natívnou podporou 4K rozlíšenia cez port HDMI.
Ultra Performance
GIGABYTE uses All Solid Caps (Capacitors) and Low RDS(on) MOSFETs

which are rated to work at higher temperatures to provide a longer lifespan.
Ultra Safe
GIGABYTE motherboards feature GIGABYTE DualBIOS™, an exclusive technology from GIGABYTE that protects arguably one of your PC's most crucial components, the BIOS. GIGABYTE DualBIOS™ means that your motherboard has both a 'Main BIOS' and a 'Backup BIOS', making users protected from BIOS failure due to virus attack, hardware malfunction, improper OC settings or power failure during the update process.
On/Off Charge Technology
GIGABYTE On/Off Charge technology allows you to charge your iPhone, iPad and iPod Touch regardless of whether your PC is on, in standby mode or even off. A derivative of GIGABYTE's highly acclaimed 3x USB Power feature, On/Off Charge enables devices to draw more current from GIGABYTE motherboard USB ports than standard USB ports allow, so that charging from your PC can be as fast as with a charger...
more
Note: Due to certain mobile phone limitations, users may need to connect the mobile phone to their PC before the PC enters S4/S5 mode to enable a quick charge from non On/Off Charge USB ports. Charging results may vary by model.
*Whether to support 3X USB power design, it may vary by models.

High ESD Protection for USB and LAN (USB 3.0 only)
GIGABYTE motherboards raise the bar in terms of protecting your system, providing advanced electrostatic discharge (ESD) protection for both your Ethernet LAN and USB ports, both common sources of ESD-related failures. Each LAN and USB port is paired with a dedicated protection filter that can withstand high electrostatic discharges, protecting your system from common electrical surges and even direct lighting strikes.

USB DAC-UP port
Featuring a gold plated USB 2.0 port, GIGABYTE USB DAC-UP provides clean, noise-free power delivery to your Digital-to-Analog Converter. DACs can be sensitive to fluctuations in power from the other USB ports, which is why GIGABYTE USB DAC-UP takes advantage of an isolated power source that minimizes potential fluctuations and ensures the best audio experience possible.
One Fuse per USB Port
On GIGABYTE motherboards each USB port has its own dedicated power fuse that prevents unwanted USB port failure, helping to safe guard your important data during transfer
Konštrukcia GIGABYTE - Jedna poistka na každý USB port



Tradičná konštrukcia - Jedna poistka pre
Multi-USB porty





Nichicon High End Audio Capacitors
GIGABYTE motherboards use the highest quality Nichicon high end audio capacitors. These professional audio capacitors deliver the highest quality sound resolution and sound expansion to create the most realistic sound effects for professional gamers.
Audio Noise Guard
Audio Noise Guard with Path Lighting
GIGABYTE motherboards feature an audio noise guard that essentially separates the board's sensitive analog audio components from potential noise pollution at the PCB level. LED trace path lighting Illuminates to show the separation of the PCB layers.
Gold Plated Audio Hardware
| | |
| --- | --- |
| | GIGABYTE G1-Killer motherboards pack top quality gold plated audio and USB connector for improved connectivity and long lasting durability. Gold has superb signal conductivity and will not tarnish over extended periods of use. The Audio controller is also shielded by a gold plated cover which eliminates electrostatic interference. |
Extreme Multi-GPU Support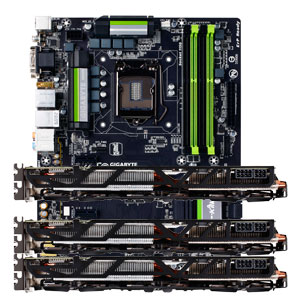 Flexible graphics capabilities - Up to 2 VGA cards are supported for either 2-Way AMD CrossFire™ or 2-Way NVIDIA
®
SLI, delivering the ultimate in graphics performance for gaming enthusiasts who demand the highest frame rates without compromising on resolution.
GIGABYTE App Center
GIGABYTE App Center gives you easy access to a wealth of GIGABYTE apps that help you get the most from your GIGABYTE motherboard. Using a simple, unified user interface, GIGABYTE App Center allows you to launch all GIGABYTE apps installed on your system.
GIGABYTE EasyTune
Simple and easy-to-use interface that allows users to fine-tune their system settings
Adjust system and memory clocks and voltages in a Windows environment
System-related information display without the need to install additional software
GIGABYTE Smart Fan 2
As well as offering more system fans than ever before, GIGABYTE 8 Series motherboards feature updated and improved CPU and system fan speed controls, with individual airflow and speed settings available via a dedicated digital controller. GIGABYTE Smart Fan 2 allows you to configure CPU fans and system fans.
GIGABYTE EZ Setup
GIGABYTE EZ Setup combines several key utilities designed to simplify install and configuration procedures for several exclusive GIGABYTE apps including Disk Mode Switch, Smart Connect, EZ Rapid Start and EZ Smart response.
GIGABYTE @BIOS
| | |
| --- | --- |
| The new and updated GIGABYTE @BIOS app allows you to update your system's BIOS from within Windows using a simple and slick graphical user interface by automatically downloading the latest version from the GIGABYTE servers. | |
* Všetky tu uvedené materiály sú orientačné. GIGABYTE si vyhradzuje právo kedykoľvek meniť alebo revidovať obsah a to bez predchádzajúceho upozornenia.
* Spomínaný výkon je založený na maximálnych teoretických hodnotách z rozhrania jednotlivých čipsetov dodávateľov alebo organizácií, ktoré definovali špecifikáciu jednotlivých rozhraní. Skutočný výkon sa môže líšiť v závislosti od konfigurácie systému.
* Všetky ochranné známky a logá sú vlastníctvom ich príslušných vlastníkov.
* Vďaka štandardnej architektúre PC je určité množstvo pamäte vyhradené pre systém, preto môže byť skutočná veľkosť dostupnej pamäte nižšia, ako uvedené množstvo.